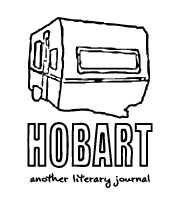 July 9, 2020 | Fiction
Andrew Bertaina
My husband is a proficient fighter. He catalogs the inconsistencies between the things I say and things I do. Against this tactic, I have no defense. For he is right, but what he fails to understand is the internal consistency in my inconsistency.
Shya Scanlon
ON Drugs, Magic, and the Sanctity of Losing Your Shit
Like any self-respecting Gen-Xer, I spent the bulk of my teenage years doing... more
July 8, 2020 | Fiction
Grace Campbell
But I didn't feel sick anymore, was the thing. The sweating, capsizing sensation, the kaleidoscope of Muppets I saw square dancing behind my eyelids on that third night when it was legitimately bad, all that had been weeks ago and still everyone brought my mother food.
July 8, 2020 | Poetry
Fargo Tbakhi
is the egg yolk, broken when it was meant to be fried, 
the sobbing of a child who's just found 
that their... more
news:
No news is good news!
Recent Books
Saul Stories
Elizabeth Ellen
"Simply one of the best writers alive in the world today."
– Scott McClanahan, author of The Sarah Book, Crapalachia, and HIll William
currently ON SALE for $19!
Legs Get Led Astray
Chloe Caldwell
"Legs Get Led Astray is a scorching hot glitter box full of youthful despair and dark delight. Tender and sharp, wide-eyed and searching, these essays have a reckless beauty that feels to me like magic."
—Cheryl Strayed, author of WILD
currently ON SALE for $11.95!