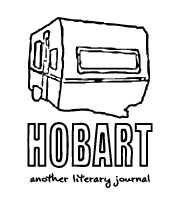 Elizabeth Horneber
Recently, I told my mother that I used to climb out of the bathroom window in the upstairs and crawl out onto the chimney ledge, where one slip of the ankle, knee, wrist, and I would have fallen three stories onto cement. Perhaps it began as another peace offering—I was trying to amuse her.
January 22, 2020 | Poetry
Ottavia Silvestri
curly like a / shiba inu's tail...
January 21, 2020 | Fiction
Jiordan Castle
I'm not trying to justify myself. I'm trying to tell you something.
January 20, 2020 |
Annell López
You didn't ask for it then. You're not asking for it now.
news:
No news is good news!
Recent Books
PERSON/A
Elizabeth Ellen

*limited time sale on Person/a: $10!
"Person/a chosen as a best work of experimental literature by Lithub!"
If They Gave Oscars to Books, Our 2017 Nominess
WOMEN
Chloe Caldwell
"Women by Chloe Caldwell s a beautiful read/a perfect primer for an explosive lesbian affair/an essential truth." -- Lena Dunham
"I read it a couple of months ago in one can't-put-it-down-even-though-it's-the-middle-of-the-night sitting. It's as intense and interesting and clear-hearted as they come." -- Cheryl Strayed