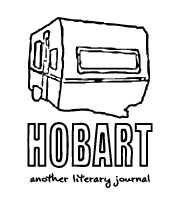 Mukethe Kawinzi
FARMHAND LONGS FOR LOVE FROM ABOVE
Thought regaling twilight with... more
September 20, 2020 | Comics
Crystal S. Gibbins
September 20, 2020 | Comics
Anne Elise Brinich
September 18, 2020 | Fiction
Kholiswa Mendes Pepani
It was a Sunday morning in Delta, Mississippi when the body of the missing Negro giant washed up on the bank of the river. First news of the creature's arrival was brought to the town by a local fisherman...
news:
No news is good news!
Recent Books
Saul Stories
Elizabeth Ellen
"Simply one of the best writers alive in the world today."
– Scott McClanahan, author of The Sarah Book, Crapalachia, and HIll William
currently ON SALE for $19!
Legs Get Led Astray
Chloe Caldwell
"Legs Get Led Astray is a scorching hot glitter box full of youthful despair and dark delight. Tender and sharp, wide-eyed and searching, these essays have a reckless beauty that feels to me like magic."
—Cheryl Strayed, author of WILD
currently ON SALE for $11.95!