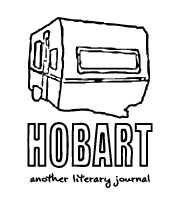 Lane Chasek
The only reason I've seen Space Jam: A New Legacy so much recently is because I wanted to avoid talking to my wife.
September 17, 2021 | Nonfiction
SJ Han
A ferry will capsize with 476 people on board.
September 16, 2021 | Poetry
Isaac George Lauritsen
September 15, 2021 | Fiction
Mary B. Sellers
"Me, all scatter-shotted words I tried out in the air ..."
September 14, 2021 | Poetry
Nolan Perla-Ward
i wanna drift like they do...
September 13, 2021 | Nonfiction
Jim Krosschell
Spring was months away; I could pretend peril didn't exist.
September 12, 2021 | fucked up modern love essays
Joe Leonard
"And then after I came out to my wife, she stumbled across People Can Change," said the man from Fresno.
Recent Books
Exit, Carefully
Elizabeth Ellen
"I loved reading Exit, Carefully. It's unusual, and in my opinion exciting, to publish a play without previously receiving a major production."
-Walker Caplan, Lithub
Worsted
Garielle Lutz
"Lutz's work is a marvel of the possibilities of language. Each of her sentences is an intricately crafted thing, deeply complex yet crystalline in its clarity . . . her command of each and every word remains supreme."
--Mira Braneck, The Paris Review Daily
Garielle Lutz is the author of The Complete Gary Lutz, among other books.