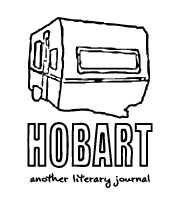 Austin Ross
There was a summer when I was about eleven or twelve when my friend Jacob and I would wake up early—around five or six—and ride our bikes down to Kroger to buy small translucent tubs of chicken
June 30, 2022 | Poetry
Michael J Pagán
according to my mother, men
are just thieves rifling through another's calm...
June 29, 2022 | Fiction
Charlotte Hamrick
Tom and Del were like Jack and Coke, cruising down the neck of town in Tom's long, cool convertible, me waiting in front of the Quik Pik in 90% humidity on a July day, holding a corn snake in a
June 28, 2022 | Poetry
Laura Bandy
You can never return to the track. A hard truth, heaven knows, but heed me— delay the wreck
and coma. Take a longer backwards way and savor that last downhill run, the final door to close.
June 27, 2022 | Poetry
Topaz Winters
...she told me she had lived in Singapore
too long to call it home anymore. She hated her name so together we made
her a new one, & like this she finally belonged to herself.
Recent Books
Exit, Carefully
Elizabeth Ellen
"I loved reading Exit, Carefully. It's unusual, and in my opinion exciting, to publish a play without previously receiving a major production."
-Walker Caplan, Lithub
Worsted
Garielle Lutz
"Lutz's work is a marvel of the possibilities of language. Each of her sentences is an intricately crafted thing, deeply complex yet crystalline in its clarity . . . her command of each and every word remains supreme."
--Mira Braneck, The Paris Review Daily
Garielle Lutz is the author of The Complete Gary Lutz, among other books.
Her Lesser Work
Elizabeth Ellen
"[Her Lesser Work] is a collection of mordant and formally inventive stories circling themes of, let's say, desire and escape within repressive structures."
-Walker Caplan, Literary Hub
"Her Lesser Work is full of power and it takes risks and it's alive and real and it fixes a very sharp eye on the shit humans do to each other and themselves."
-Lindsay Lerman, LitReactor