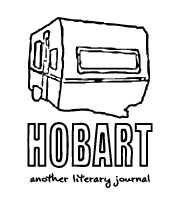 Ethan Kahana
When reciting the Ten Plagues in Hebrew, we customarily dip our knives into our wine glass for each plague and set a drop of wine on our dinner plate.
December 1, 2023 | Fiction
K Hank Jost
There's not a thought in the throb. Not an inkling in the coppery clatter of his mouth. There's only the turn. Only the fist: fast, everything behind it.
November 30, 2023 | Fiction
Franz Jørgen Neumann
She thought he was going to kill her this time, but that was one of the unspoken rules: no killing each other. Also: no kitchen knives, no purpose-built weapons of any kind. No screaming, either. Neighbors, the police—they wouldn't understand.
November 29, 2023 | Fiction
Jane Liddle
My mother's screams woke me up.
November 27, 2023 | Fiction
Robert McCready
In late July, in the mid-nineties, I begged Mom and her fiancé Paul to buy me a big ball at Roses department store.
November 26, 2023 | fucked up modern love essays
Amanda Bloom
Showboat said he'd like to take me out sometime. I asked why.
"Because I think you're attractive, and so we can hang out somewhere other than the coffee trailer," he said.
It was October, ten
Recent Books
Miss Unity
I thought I was unhappy as a man. Turns out I was just unhappy…
Garielle Lutz
Garielle's longest, most peculiar, most particularized book. A sure-to-be collector's item. Not be be missed!
Elizabeth Ellen
an art book, collection of poems and photographs, hardcover