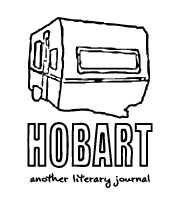 March 1, 2021 | Poetry
Sadie Dupuis
CRYSTAL THINKING
Dream logic gets my sober companion drunk
Vomiting silver in the private beehive of our wagon
I went to the cemetery and played you a too-fast solo
Mud seeped in the ass of my
Virginia Konchan
... at Stereo, you never had to ask "where's the love," because it was everywhere, in everyone, even the atmosphere...
February 26, 2021 | Fiction
Nancy Freund
The moon came out, riding on a motorbike, his head hatted, silver-blue, attached.
February 25, 2021 | Nonfiction
Riley Manning
"We found the calf box," she tells your grandmother on the phone. "Not a scratch on it. Yeah, we found it in what used to be the living room."
Recent Books
PERSON/A
Elizabeth Ellen
"If Elizabeth Ellen exists, I would tell her it was like she channeled the anthemic scorn of Alanis Morrisette's "You Outta Know" through Anais Nin, in her own inimitable way. And if Elizabeth Ellen doesn't exist, at least she can invent herself.
currently ON SALE for $11!
Legs Get Led Astray
Chloe Caldwell
"Legs Get Led Astray is a scorching hot glitter box full of youthful despair and dark delight."
—Cheryl Strayed, author of WILD
currently ON SALE for $9!