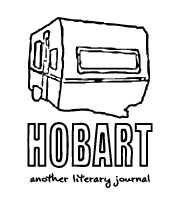 May 24, 2019 | Poetry
Ben Pelhan
every movie ever has big hard cocks. ass. tits. sorry, I meant porn. sometimes when I travel I listen to the radio. the songs make me think of... more
May 24, 2019 | Poetry
Kathryn Merwin
One Night We Drove Through Yellowstone
I dreamt of a white bear last night,
like the ones in the... more
Alyssa Oursler
The man I love who does not love me back sends me someone else's tweet. The only text is a hashtag: Notre Dame. The... more
Jasmin Aviva Sandelson
We know who has her period and who is still waiting. If a girl takes her backpack to the bathroom or sits pool-side in swim class, she has her period. So do the girls who—when they ask Can I go to the bathroom? and the teacher says, No—say But I really need to go.
Recent Books
Elizabeth Ellen
Elizabeth Ellen
A 400-page collection of poems in fours sections: Nicki Minaj Songs, Bob Dylan Songs, Elliott Smith Songs, and 90s Riot Grrrls Songs.
ON SALE for only $5 through June 15!!
Legs Get Led Astray
Chloe Caldwell
FOUR NEW ESSAYS BY CHLOE CALDWELL! Plus the original essays that made you fall in love with Chloe!

ON SALE for only $5 through June 15!!
Saul Stories
Elizabeth Ellen
"I didn't want to ever be outside of this moment. I knew at some point I would look at the picture I'd just taken and feel an overwhelming sense of loss. I thought as long as we could manage to stay inside this particular hotel room, to avoid our phones and every person with whom we'd ever come into contact, we would continue to feel whole. We were revolutionaries, goddamnit. These were our accumulation of beautiful moments. Before the world fractured us. I don't expect you to understand how I became Brad Pitt in that moment, how we all just flew along down the highway. Bandits. Ex-patriots. In love with this countryside, if not this country. Paper Moon. The Last Picture Show. All of this shot in black and white. Only the final scene in color."