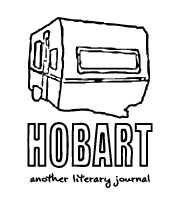 November 19, 2019 | Fiction
Josh Sherman
When she died, she just wasn't there. I had to ask about her. She wasn't in the usual place.
Alex Russell
You find yourself crying on the phone to your manager, telling them you don't know if you're in an emotionally abusive relationship or not. That probably deserves certainty.
November 18, 2019 | Interview
Elizabeth Ellen
I think they mean they just don't like a woman going around going "cunt cunt cunt."
November 18, 2019 | Fiction
Sionnain Buckley
Across the vacant middle seat an old man is sleeping through all of this, chin to collarbone, neck bent at a right angle.
Recent Books
Elizabeth Ellen
Elizabeth Ellen
A 400-page collection of poems in fours sections: Nicki Minaj Songs, Bob Dylan Songs, Elliott Smith Songs, and 90s Riot Grrrls Songs.
Legs Get Led Astray
Chloe Caldwell
FOUR NEW ESSAYS BY CHLOE CALDWELL! Plus the original essays that made you fall in love with Chloe!
Saul Stories
Elizabeth Ellen
Saul Stories is a linked collection that explores the relationships between a forty-year-old female artist, her teenaged daughter, and her daughter's friends. With ferocious realism, the book interrogates how children of differing classes and races are treated in the U.S., and the salacious and skeptical ways the current culture views cross-generational friendships. But most potently—in narratives taking place in Denny's and movie theatres and living rooms and cars—Saul Stories wonders what it means to be a woman and an artist and a mother, all at once.