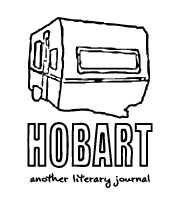 Wendy Elizabeth Wallace
This sense judders through you when you collide with the snowplow truck.
Shannon J. Curtin
The last time I dream of him, my dead ex-boyfriend asks me to stop bringing him back.
Usually, when I dreamt him alive, he didn't speak. I'd sit next to him while he sorted mail. I'd watch him turn
October 25, 2021 | Fiction
Libby Copa
The water witch said that if I cut my hair and killed the prince and his new bride she would turn my legs back into fins and I could go home. I didn't have to think about it very hard.
Dillon Fernando
When I mention this flash of sexual fluidity to people, it bothers them.
October 21, 2021 | Nonfiction
Dave Fromm
Felt, for a minute, like some façade had slipped, like a glitch in the matrix. Is this in fact the car we came in? Are we who we think we are?
October 20, 2021 | Fiction
Adam McOmber
When I was dead, I returned to my father's house, an old farmstead in Northwestern Ohio, and I stood alone in the gravel drive, satisfied to see that the house was just as I remembered it—small and gray, rising on a plot of land west of a moonlit apple orchard.
Recent Books
Exit, Carefully
Elizabeth Ellen
"I loved reading Exit, Carefully. It's unusual, and in my opinion exciting, to publish a play without previously receiving a major production."
-Walker Caplan, Lithub
Nudes
Elle Nash
"Transgressive and immediate: you feel these stories shoot through and wrap around you."
- Kyle F. Williams, Full Stop Magazine
Worsted
Garielle Lutz
"Lutz's work is a marvel of the possibilities of language. Each of her sentences is an intricately crafted thing, deeply complex yet crystalline in its clarity . . . her command of each and every word remains supreme."
--Mira Braneck, The Paris Review Daily
Garielle Lutz is the author of The Complete Gary Lutz, among other books.