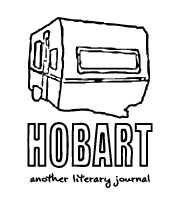 Showing results for Tv
November 3, 2014 | TV, Fiction
Christian Hayden
The Mortadella
Sometimes when my husband and I argue he eats... more
July 8, 2014 | TV, Poetry
Sarah Blake
I imagine Temperance Brennan's annual gynecological exam might go something like mine: If you're not finding time to eat, you must not be having a lot of... Are you seeing anyone right now?
May 20, 2014 | TV, Nonfiction
Amanda Goldblatt
I 
I wake up one morning and want to read Woolf. Being a woman writer. Is being a woman-who-is-a-writer something to consider,... more
Recent Books
Saul Stories
Elizabeth Ellen
"Simply one of the best writers alive in the world today."
– Scott McClanahan, author of The Sarah Book, Crapalachia, and HIll William
currently ON SALE for $19!
Legs Get Led Astray
Chloe Caldwell
"Legs Get Led Astray is a scorching hot glitter box full of youthful despair and dark delight. Tender and sharp, wide-eyed and searching, these essays have a reckless beauty that feels to me like magic."
—Cheryl Strayed, author of WILD
currently ON SALE for $11.95!