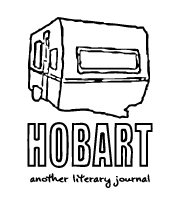 December 15, 2018 | Fiction
Sophie McCreesh
I remember playing some songs at four in the morning and asking if you liked them. What the songs sounded like doesn't matter now. I only... more
Steve Anwyll
The bum drags himself off the floor. Then comes on nice. Real buddy buddy shit.
December 14, 2018 | Fiction
Sam Michel
A few of the Greater Mosquitoes jogged by with their boards across the flats, all chest and teeth and bleach-brown... more
Paulette Perhach
While the atmosphere pumps steroids into hurricanes, let me feel the Ecuadorian sun on my face.
Recent Books
Saul Stories
Elizabeth Ellen
a set of linked stories with some of the same characters from Person/a and a lot of new ones and the world is the same but different from the world in Person/a and the stories take place in a year absent from Person/a. if that makes sense. contains the Pushcart Prize winning story "Teen Culture" from American Short Fiction, if that's something that moves you to buy books. <3
Legs Get Led Astray
Chloe Caldwell
FOUR NEW ESSAYS BY CHLOE CALDWELL! Plus the original essays that made you fall in love with Chloe!
Dualities
Jason Phoebe Rusch
Jason Phoebe Rusch is a queer writer from the Chicago suburbs. His full-length debut Dualities explores gender and patriarchy from the perspective of a man who was socialized and is currently still read as a woman. He is interested in complication and nuance and messy human failing, his own and that of others.