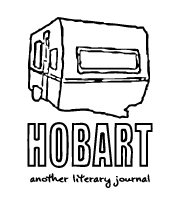 March 19, 2018 | Poetry
Alain Ginsberg
so of course let it greet you fully in the face of your body
and tackle that which sent it into the dust
and rejoice that a body can chill and still chill back.
March 16, 2018 | Fiction
Cavin Bryce
At the age of sixteen I worked a job digging holes. Sometimes it was ditches, other times it was retention ponds.The work was as hard as<a class="more" href="/web_features/lucky-numbers">... more</a>
Kierstin Bridger
Canvas after canvas I see my life in scenes the artist cannot know.
Christopher Newgent
I lost track of Ben while I was married. Seven years. I hadn't seen Ben in 7 years. Ben refers to those years as my<a class="more" href="/web_features/no-bull-bourbon-reviews-knob-creek">... more</a>
Recent Books
Elizabeth Ellen
Elizabeth Ellen
A 400-page collection of poems in fours sections: Nicki Minaj Songs, Bob Dylan Songs, Elliott Smith Songs, and 90s Riot Grrrls Songs.
Legs Get Led Astray
Chloe Caldwell
FOUR NEW ESSAYS BY CHLOE CALDWELL! Plus the original essays that made you fall in love with Chloe!
Dualities
Jason Phoebe Rusch
Jason Phoebe Rusch is a queer writer from the Chicago suburbs. His full-length debut Dualities explores gender and patriarchy from the perspective of a man who was socialized and is currently still read as a woman. He is interested in complication and nuance and messy human failing, his own and that of others.