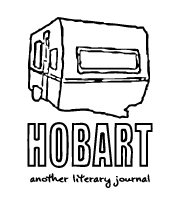 Martha Grover
Now I'm not dating anymore and I use the gold duffel bag to haul my belongings from one house-sitting gig to the next.
June 22, 2018 | Fiction
Mary Clemens
When, on August 18, 2015, the dog the internet called "The Devil" was finally cornered by the Salt Springs police... more
June 21, 2018 | Poetry
Danny Caine
We've never lived in Culver's territory and it still doesn't
feel like we do. I mean, it's at 33rd and Iowa and our place
is at 9th and Indiana. That's like a 15-minute drive.
Michael Deagler
Every writer knows the rule of 'write what you know,' but the interesting thing is that you don't really know what you know until you write it.
Recent Books
Elizabeth Ellen
Elizabeth Ellen
A 400-page collection of poems in fours sections: Nicki Minaj Songs, Bob Dylan Songs, Elliott Smith Songs, and 90s Riot Grrrls Songs.
Legs Get Led Astray
Chloe Caldwell
FOUR NEW ESSAYS BY CHLOE CALDWELL! Plus the original essays that made you fall in love with Chloe!
Dualities
Jason Phoebe Rusch
Jason Phoebe Rusch is a queer writer from the Chicago suburbs. His full-length debut Dualities explores gender and patriarchy from the perspective of a man who was socialized and is currently still read as a woman. He is interested in complication and nuance and messy human failing, his own and that of others.