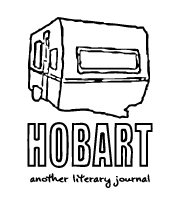 Amy Stuber
I'm a white middle-aged mom driving through a mainly white college town listening to a now-dead Jewish hip-hop artist whose video for "Self-Care," released right around the time of his death featured him trapped in a coffin. I'm older now than I've ever been. Obviously. Who cares.
January 22, 2019 | Poetry
Marcia Arrieta
fire inherent spectrum
the martyr no longer I walk beyond the cradle the peach tree the... more
January 21, 2019 | Fiction
Kyle T. Armstrong
did I know that we're making global warming worse by eating beef because cow farts heal the ozone layer
Dina L. Relles
1. We are young and we snake through synagogue back hallways. Play truth or dare. Seven minutes in heaven. Stay away from the sanctuary.
Recent Books
Saul Stories
Elizabeth Ellen
"I didn't want to ever be outside of this moment. I knew at some point I would look at the picture I'd just taken and feel an overwhelming sense of loss. I thought as long as we could manage to stay inside this particular hotel room, to avoid our phones and every person with whom we'd ever come into contact, we would continue to feel whole. We were revolutionaries, goddamnit. These were our accumulation of beautiful moments. Before the world fractured us. I don't expect you to understand how I became Brad Pitt in that moment, how we all just flew along down the highway. Bandits. Ex-patriots. In love with this countryside, if not this country. Paper Moon. The Last Picture Show. All of this shot in black and white. Only the final scene in color."
Legs Get Led Astray
Chloe Caldwell
FOUR NEW ESSAYS BY CHLOE CALDWELL! Plus the original essays that made you fall in love with Chloe!
Dualities
Jason Phoebe Rusch
Jason Phoebe Rusch is a queer writer from the Chicago suburbs. His full-length debut Dualities explores gender and patriarchy from the perspective of a man who was socialized and is currently still read as a woman. He is interested in complication and nuance and messy human failing, his own and that of others.