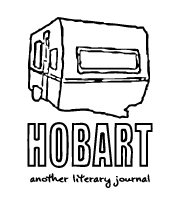 June 20, 2019 | Fiction
Dylan Davis
A tendril of smoke dissipated above us. She made an opening in her hands, revealing a little frog. Its throat pumped rapidly.
Emily Lackey
Like the other day, when we got into a fight about who was the luckier between the two of us to have found the other.
Joshua James Amberson
When I was eleven, I saw the hip-hop group TLC bust onto the stage of some live TV show wearing giant colorful overalls... more
Amelia Morand
For Caite's Sweet 16 we get a couple rooms at the Motel 6 on Cerrillos, not the one downtown with the outdoor pool, the one on the... more
Recent Books
Elizabeth Ellen
Elizabeth Ellen
A 400-page collection of poems in fours sections: Nicki Minaj Songs, Bob Dylan Songs, Elliott Smith Songs, and 90s Riot Grrrls Songs.
ON SALE for only $5 through June 15!!
Legs Get Led Astray
Chloe Caldwell
FOUR NEW ESSAYS BY CHLOE CALDWELL! Plus the original essays that made you fall in love with Chloe!

ON SALE for only $5 through June 15!!
Saul Stories
Elizabeth Ellen
Saul Stories is a linked collection that explores the relationships between a forty-year-old female artist, her teenaged daughter, and her daughter's friends. With ferocious realism, the book interrogates how children of differing classes and races are treated in the U.S., and the salacious and skeptical ways the current culture views cross-generational friendships. But most potently—in narratives taking place in Denny's and movie theatres and living rooms and cars—Saul Stories wonders what it means to be a woman and an artist and a mother, all at once.