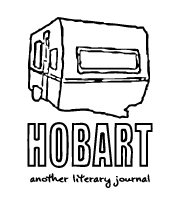 October 16, 2018 | Poetry
Isaac Ginsberg Miller
Cosmogony
In January the birds awakened mid-
flight. In February the bats left
their cave and we... more
October 16, 2018 | Fiction
William Squirrell
Since they had moved to Orangeville, Trudy found she could no longer distinguish Kevin from other men.
October 15, 2018 | Fiction
Meg Pokrass
On the morning of my sixteenth birthday I made a list of stuff I didn't believe in anymore.
October 12, 2018 | Fiction
Greg Welch
"It was misery, real misery. But, Doc keeps telling me I'm all clear, so I ain't going to argue with him."
Recent Books
Elizabeth Ellen
Elizabeth Ellen
A 400-page collection of poems in fours sections: Nicki Minaj Songs, Bob Dylan Songs, Elliott Smith Songs, and 90s Riot Grrrls Songs.
Legs Get Led Astray
Chloe Caldwell
FOUR NEW ESSAYS BY CHLOE CALDWELL! Plus the original essays that made you fall in love with Chloe!
Dualities
Jason Phoebe Rusch
Jason Phoebe Rusch is a queer writer from the Chicago suburbs. His full-length debut Dualities explores gender and patriarchy from the perspective of a man who was socialized and is currently still read as a woman. He is interested in complication and nuance and messy human failing, his own and that of others.