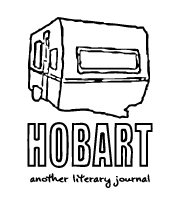 October 18, 2018 | Fiction
Olivia Gunning
"We need a gift that's really her," I said. "Really Sophia."
"Could you define her?"
"A truly independent mind, a renovator, a cultivator."
October 18, 2018 | Poetry
Erika Walsh
Treat
I want to be rewarded for my good thoughts. My good purchase. I want free shipping. Gentle... more
Sarah E. Ruhlen
I flipped on the lights, turned up the furnace, and cranked some Stevie Wonder.
October 16, 2018 | Fiction
William Squirrell
Since they had moved to Orangeville, Trudy found she could no longer distinguish Kevin from other men.
Recent Books
Elizabeth Ellen
Elizabeth Ellen
A 400-page collection of poems in fours sections: Nicki Minaj Songs, Bob Dylan Songs, Elliott Smith Songs, and 90s Riot Grrrls Songs.
Legs Get Led Astray
Chloe Caldwell
FOUR NEW ESSAYS BY CHLOE CALDWELL! Plus the original essays that made you fall in love with Chloe!
Dualities
Jason Phoebe Rusch
Jason Phoebe Rusch is a queer writer from the Chicago suburbs. His full-length debut Dualities explores gender and patriarchy from the perspective of a man who was socialized and is currently still read as a woman. He is interested in complication and nuance and messy human failing, his own and that of others.