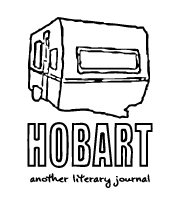 December 7, 2018 | Fiction
Jason Reed-Mundell
The film was a Disney re-release, full of rollicking creatures with wide-flung arms emitting human sounds through smiles that hummed and flickered like radio speakers. Blake was too drunk to follow what was going on, but he ate his popcorn and drifted in and out of sleep, and the things were laughing and singing to him.
December 6, 2018 | Fiction
Kirk Michael
We stepped into a washroom and I looked longer at the ring on her finger. "It's just for starters." She opened the... more
Recent Books
Elizabeth Ellen
Elizabeth Ellen
A 400-page collection of poems in fours sections: Nicki Minaj Songs, Bob Dylan Songs, Elliott Smith Songs, and 90s Riot Grrrls Songs.
For a kind of "post-Cyber Monday 'Cyber Sale'," all SF/LD Books are on sale for 50% off!!
Legs Get Led Astray
Chloe Caldwell
FOUR NEW ESSAYS BY CHLOE CALDWELL! Plus the original essays that made you fall in love with Chloe!
Dualities
Jason Phoebe Rusch
Jason Phoebe Rusch is a queer writer from the Chicago suburbs. His full-length debut Dualities explores gender and patriarchy from the perspective of a man who was socialized and is currently still read as a woman. He is interested in complication and nuance and messy human failing, his own and that of others.