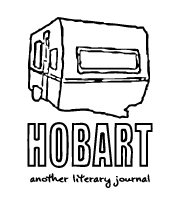 Showing results for Tv
November 3, 2014 | TV, Fiction
Christian Hayden
The Mortadella
Sometimes when my husband and I argue he eats... more
July 8, 2014 | TV, Poetry
Sarah Blake
I imagine Temperance Brennan's annual gynecological exam might go something like mine: If you're not finding time to eat, you must not be having a lot of... Are you seeing anyone right now?
May 20, 2014 | TV, Nonfiction
Amanda Goldblatt
I 
I wake up one morning and want to read Woolf. Being a woman writer. Is being a woman-who-is-a-writer something to consider,... more
Recent Books
PERSON/A
Elizabeth Ellen

*limited time sale on Person/a: $10!
"Person/a chosen as a best work of experimental literature by Lithub!"
If They Gave Oscars to Books, Our 2017 Nominess
WOMEN
Chloe Caldwell
"Women by Chloe Caldwell s a beautiful read/a perfect primer for an explosive lesbian affair/an essential truth." -- Lena Dunham
"I read it a couple of months ago in one can't-put-it-down-even-though-it's-the-middle-of-the-night sitting. It's as intense and interesting and clear-hearted as they come." -- Cheryl Strayed